PODČETRTEK HERNAVS HOMESTEAD - HERBALIJA
Total relaxation and pampering at the pleasant homestead where nature embraces you.
Relaxation in the rustic apartment in the middle of nature
TheHernavs – Herbalija inn is located in the small village of Virštanj, some 7 km from Podčetrtek and Terme Olimia resort. The homestead categorised four apples, the maximum for tourist farms, is located in the Kozjansko Regional Park. This over 120-year old homestead that has been renovated beautifully will pamper you with the luxury of peace and unspoilt nature, and offer you relaxation in the cosy rustic apartment Kašča ('Granary') and with Finish/herbal sauna at the Sončna izba ('Sunny Room'), and you'll surely be impressed by their special feature – the herbal-therapeutic garden.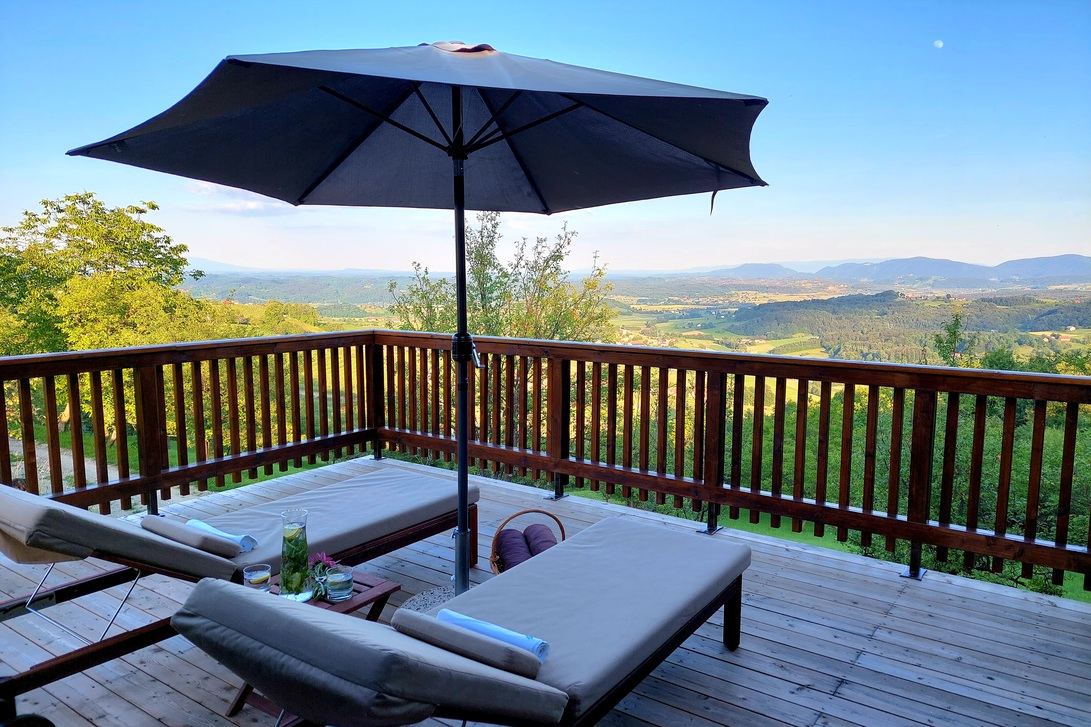 Homeliness and comfort for the harmony with natural energy
Capacities
The Kašča and Sončna izba apartments offer homeliness and comfort to the tourists who crave peace, relaxation and privacy. They offer comfort to two persons but a third bed can also be fitted. Sončna izba with its Finnish/herbal sauna offers perfection of relaxation, intimacy of pleasures, warmth of the sun and a gaze into the calmness of unspoilt nature of Kozjansko. You will also consume perfection with homemade herbal infusions and apples from Kozjansko.

The apartment in the rustic countryside style includes a kitchen, living room, bathroom and terrace with a view over the vineyards and the surrounding area. Free wireless internet is available in all areas.

A welcome break for active explorers
For those wishing to be pampered, there is a wide selection of massages available, and the natural energies that can be felt are beneficial, too. The homestead is located close to hiking and cycling trails, so they offer the rental of cycling and hiking equipment. The discoveries of the numerous natural and cultural curiosities and the picturesque landscape of Kozjansko and the Sotla Valley will thus be even more pleasant.
Additional offer
A particularity of the homestead is its herbal-therapeutic garden where numerous medicinal plants delight visitors with their beauty and fragrances.

The reflex therapy path, kneipping and relaxation zone will enrich and stimulate your senses to enter into perfect harmony with the natural energy. The latter is further enhanced with sound therapy.